As Purchased Condition Of The Car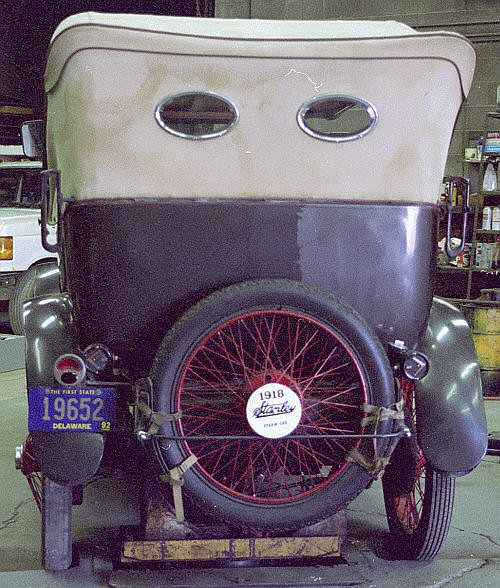 Rear View
At the rear of the car hidden by the spare tire was a 20-gallon kerosene tank for the burner. Under the front seat were the pilot fuel (gasoline) and steam cylinder oil tanks. Saddled down the center of the car and mounted to the frame was a 24-gallon water tank that Stanley advertised provided a water mileage of 150 to 250 miles.
Unique to the 735-series was "electric-start". By pushing down and latching a button near the pilot fuel valve an electric current from the battery was conducted through the pilot vaporizer thus heating it quickly. When the button self-reset the pilot fuel valve could be opened and the pilot ignited. Unfortunately battery design and construction of the era was poor and the repeated heavy current drains on the battery, in addition to the need to drive the car at over 20 MPH for at least 25 miles to recharge the battery after it was used to ignite the pilot made the system highly unreliable and Stanley soon went back to the practice of supplying a small gas torch to preheat the pilot.
After 1914 all Stanley cars were 20-horsepower models. The lightweight Stanley engine design relied on two cylinders. With a 4" bore and a 5" stroke, the engine was double acting. Simple Link valve action operated the slide valves. A 40-tooth gear on the engine crank directly meshed with a 60-tooth gear of the differential ring gear. The entire engine assembly and differential assembly was housed in a copper, dust-proof and oil-tight housing containing several inches of steam cylinder oil that was splashed about by the two gears to keep moving parts well lubricated.