Stanley Supplier & Services Listing
One of the top ten most asked questions at car shows seems to be "Where do you find parts for a Stanley or get things repaired?" Emails from visitors to the website often inquire, "Where can I purchase a replica Stanley engine?" The answer to these questions generally takes the form of "Knowing other Stanley owners, being a member of the Stanley Museum, and searching the Internet and car shows".
In the Spring-Summer 2005 issue of the Stanley Museum Quarterly (Volume XXIV, Nos. 2 & 3) the Museum published a Supplies and Services Register. This listing provided contact information for various individuals and organizations as well as a table indicating those areas of expertise of each company. The Stanley Museum graciously agreed to allow the information to be reproduced on this website.
In addition to the Supplies and Services Register, the Museum hosts occasional auctions where Stanley parts and hardware are offered to the highest bidder. To further support Stanley owners the Quarterly includes a Members' Clipboard of For Sale and Wanted items in every issue.
The Supplier Address link below provides the contact information for numerous individuals and companies with Stanley experience. The Areas of Expertise table indicates those services each supplier specializes in. Those listed in dark blue are from the Stanley Museum listing while those in light blue have been added as these suppliers have assisted in the restoration of the Stanley detailed on this website. The listing is intended to support those interested in the repair, maintenance, restoration, and preservation of all steam cars and in particular the Stanley Steamer.
This listing is not all-inclusive and will be updated as additional suppliers and individuals become known. This listing is provided for informational purposes only and shall not be construed to be a referral or endorsement by either The Stanley Museum, this website, or the website's owner.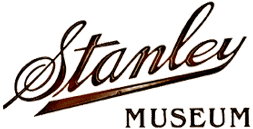 (Click logo to visit the Museum website)