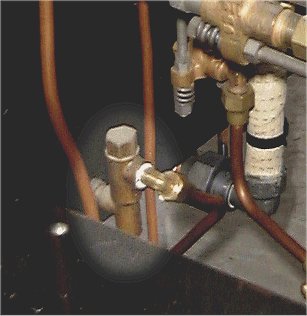 water check valve originally referred to by the stanley motor carriage company as the boiler check valve
Check valves are found at several locations throughout a Stanley's water, fuel, and oil systems. Depending on how the check valve is being used determines how the check valve is identified. The function of a check valve is to isolate a fluid plumbing system. The check valve can be thought of as similar in function to an airport security check point or a turnstile where people can pass through in one direction but not return through from where they came. Once a fluid passes through a check valve it can not return back through the check valve to its source.
What is now referred to as the water check valve, Stanley originally called the boiler check valve. The purpose of a boiler check valve is to isolate the steam and hot water pressures of the boiler from the boiler water supply system such that the pressure of the steam doesn't force water back through the pumps and into the water tank. The check valve at the boiler that Stanley referred to as the emergency boiler check valve now serves the function of the boiler check valve (see the discussion on the boiler check valve for additional information).
What we now call the water check valve functions as a backup to the boiler check valve, and isolates water in the feed water heater from the piping of the water automatic and the water path back to the water tank. One of the reasons for making this change is to limit the pressures on the feed water heater water tubing to pressure only when the pumps deliver water to the boiler.
The water check valve is located just in front of the firewall at the right side of the car. A water supply pipe from the power water pumps projects through the car's frame at the lower right side of the firewall. The water check valve's inlet port is mounted to end of the pipe. The discharge side of the check valve is plumbed to the inlet of the feed water heater then onto the boiler via the (emergency) boiler check valve. Another line, located in the piping before the check valve leads to the water filter, water automatic bypass valve, and the water automatic.