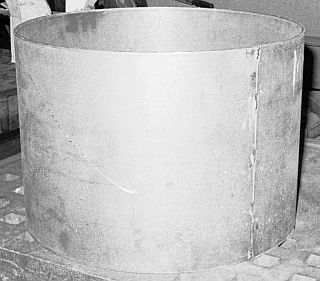 Welding The Boiler Shell Seam
Research into Stanley condensing boilers and how to make one provided a list of options. Measurement of old Stanley boilers from the Marshall Collection revealed that original condensing boilers probably had a 3/16" steel shell and 1/4" thick flue sheets. In the interest of making the replacement boiler stronger the shell would be constructed of 1/4" steel. The lower (burner side) flue sheet would be constructed with 3/8" steel while the top (smokebox side) flue sheet would be constructed of 5/16" steel. As boiler codes were limited in the early part of the 20th century, in keeping with today's requirements, SA 516, Schedule 70 certified boiler plate would be used.
Another change would be to make a 16" high boiler instead of the 14" high boiler that originally came with the car. Changing to the 18" high design of later cars was deemed not necessary as experience from Tom Marshall indicated that increasing the height of the boiler over 16" didn't little to improve overall car performance. Stanley also used 33/64" OD (outside diameter) steel flue tubes in their boilers. This is not a standard tubing size generally available and thus 1/2" seamless hydraulic tubing was chosen for the flues. In changing the flue size the number of flues would now be 636.