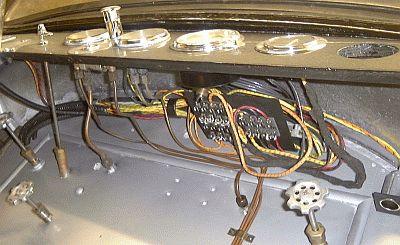 All of the car's wiring was replaced using wire that looks like the original. Conductor sizes were increased but remained stranded copper. The replacement wire has a thermoplastic insulation over the copper conductor. A braided cotton covering matching the colors originally used covers the thermoplastic insulation. Finally a thin nylon outer covering over the cotton insulation protects the cotton insulation from moisture and damage. Where the taping of conductors was required the use of a fire-proof cloth electrical tape was used similar to what would have been used by Stanley.
To make the car's wiring neater the wiring was consolidated into five flexible conduit runs. A conduit was routed between the generator and regulator/battery. Another flexible conduit carried wires between the regulator/battery and the fuse panel under the dash. A third conduit routed conductors to the front headlights while the fourth traveled to the brake light switch and on to the brake/tail light. A final conduit routed conductors between the flasher unit on the steering column and the pair of directional lights at the rear of the car.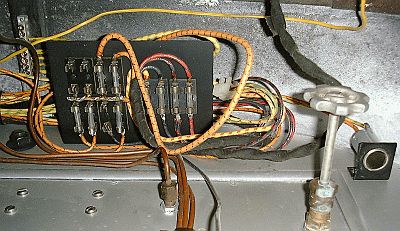 The decision was made to add twelve fuses, hidden from view under the dash, for the purpose of protecting each circuit in the car with a fuse. Instead of one fuse with a high amperage protecting everything as Stanley had done, a series of low amperage fuses would be installed to protect specific circuits in hopes that a failure would allow for a quick interruption of power.
The photograph above details the fuse panel. The four fuses to the right in the picture are for the distribution of power from the generator, battery, and all lamp circuits. The group of eight fuses to the left are the individual circuit fuses.
To the far right in the photograph is a modern cigarette lighter receptacle. This was added to provide a quick means to connect a battery charger to the car for topping off the battery (the battery is located under the back seat). Additionally the lighter receptacle provides a quick connection to the battery for a small portable air compressor which might be used to pressurize the main fuel system service tanks or to pressurize the pilot fuel tank (the air valves for charging these systems are located under the passenger floorboard).
Also seen in the upper left of the above photograph is a modern neutral bar. Stanley relied on the car's frame for the ground connections between various electrical devices. Grounding of the headlights for example was through the mountings to the frame. This provided an unreliable ground path so another deviation from the Stanley wiring practice was to provide dedicated ground return conductors throughout the car. All circuit ground return conductors were returned to either the common neutral bar under the dash or the neutral bar at the regulator. This arrangement provides for a more robust circuit arrangement and should eliminate electrical problems commonly experienced on Stanley Motor Carriages.